The following press release was provided by the Friends of the Hamilton Reservoir Association.
---
The Hamilton Reservoir in Holland will again be the site of a paddle-sport race on Sunday Aug. 26. The race is a fundraiser for the local lake association, the Friends of the Hamilton Reservoir Assoc. (FHRA).  The FHRA is a 501 (c) (3) n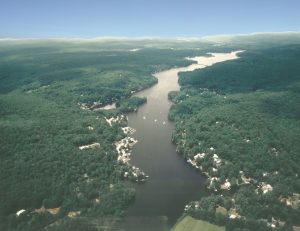 on-profit organization dedicated to the preservation and maintenance of the lake, including public safety, environmental integrity and conservation.
All kinds of paddlers, with their paddle-powered watercraft, are welcome to join the fun.   Kayaks, canoes, stand-up paddleboards and outrigger canoes are expected to participate.
The event will be held at the home of the Holland Aqua Riders at 163 Mashapaug Rd in Holland and will start at 10:00 am.  On-site registration will begin at 8:30 am the day of the race and conclude at 9:45 am.  The entry fee is $20.
Registrants will receive a race-logo drawstring backpack, sponsored by Elmore Realty, and complimentary post-race refreshments will be provided.
Numerous race classes based on age, gender and type of boat will be offered for multiple race distances.  There will be three race courses for paddlers to choose from.  Racers may select to race a 7- mile course, a 3.5 – mile course or a 1-mile sprint route.
According to Bill Terbush, the Race Director, "paddlers of all abilities are expected for the race.  The event is part of the New England Canoe and Kayak Racing Association's Flatwater Point Series.  The series provides participants with an opportunity to earn points at various races throughout New England and prizes at the end of the season for top point earners."
"We also anticipate a good number of local paddlers to join the fun.  There are numerous paddlers on our local waterways that enjoy canoeing and kayaking, and many of them will be paddling in the race to support the FHRA, or to just enjoy the friendly competition, he added."
Sweet treats from the Shepherd's Gate Dairy Goat Farm in Holland will serve as prizes.  The Shepherd's Gate is home to a small herd of LaMancha dairy goats that produce all the milk used in creating a variety of delicious and nutritious cheeses and desserts.
For more information contact Bill Terbush at wterbush@hotmail.com.